zplane releases deCoda 1.1.0 – adds audio input and plugin support
Powerful update to unique music learning and practice tool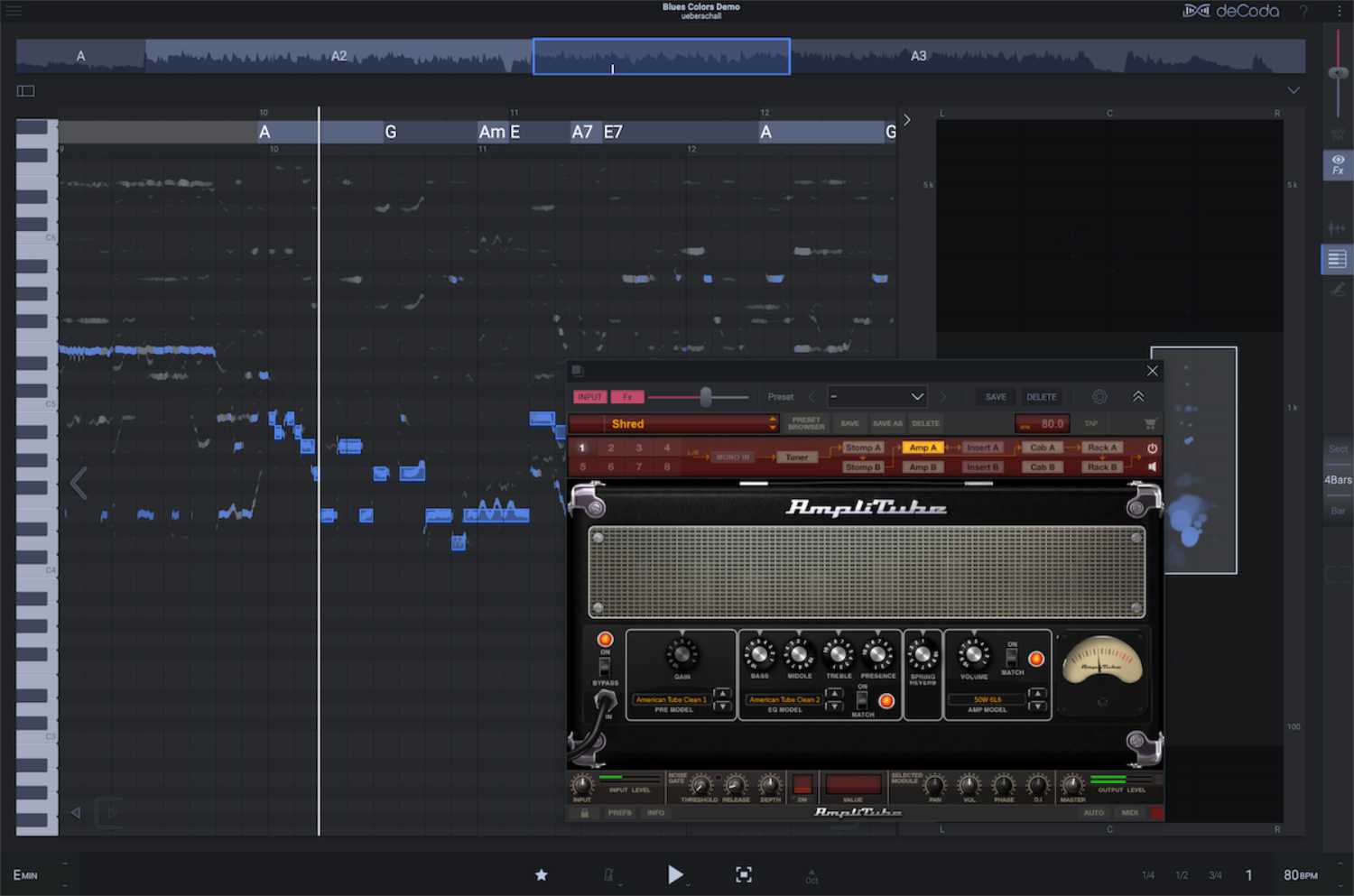 zplane.development just updated its acclaimed music learning software deCoda. With version 1.1 musicians can plug in their instrument and play along to the song they are learning. The new plugin support makes it possible to play along through any VST/AU plugin while learning. To get users going quickly, deCoda 1.1 even comes with a special version of IK Multimedia's Amplitube 4 LE with four extra models.
deCoda was designed to help musicians learn to play new songs.Being able to plug in your instrument and play along with your signature sound makes it so much easier, says Tim Flohrer, CTO and co-owner at zplane.
Built from the ground up as a software tool to help music makers learn new songs, deCoda is a unique software tool. Users can import any audio file and deCoda will tell the key, tempo and chords and identify sections like intro, chorus and verse. Smart tools for looping, isolating individual instruments, tracing and exporting melodies, and adjusting the tempo make it easy to follow along and effortlessly learn difficult passages.
deCoda 1.1.0 is a free update for existing owners.
deCoda key features
Find Key, tempo and chords with the help of advanced algorithms
Learn to play songs in parts with flexible looping options
Automatic song structure detection helps you find intro, verse, chorus etc
Plug in your instrument and play along through your favorite VST/AU plugins
Includes a special version of IK Multimedia's Amplitube 4 with four extra amp models
Transpose parts or the entire track to a key that suits you better
Change tempo without changing the pitch
Use the Focus EQ to isolate a certain instrument
View the parts of the song on a piano roll display
Export MIDI parts that you have traced from the audio
Export the chord analysis as MIDI tracks
This update is free for all existing users.
The software be purchased online at the product website (https://products.zplane.de/decoda).
Visit decoda.app for more information.
deCoda is available for 49 EUR.
A free demo can be downloaded on the Product site.